A better way to get Digital Design Solutions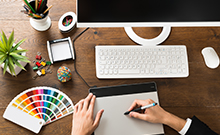 Digital Design Solutions
Are you struggling to improve your digital business and looking for a platform that helps you optimize your digital business? Well, if yes then ArtKop is for you. Here, you'll get an all-rounder digital design solution for all your digital problems.
What are we?
We are a team of highly professional and trained persons who are specialists in their field. Our top priority is to provide the best services to our customers. There are plenty of platforms available online which provide digital design solution services but they're unable to provide premium quality services at a genuine price. Our USP is to provide premium quality services at the most cost-effective price. See below. Content to know more about what services we provide
YouTube Designing
We had a dedicated team that was created for designing a YouTube channel. YouTube is one of the widest markets where you can interact with the audience and enhance your sales. So, if you're planning to open a Youtube channel or want to increase the reputation of your Channel then we'll get the best quality design services with ArtKop.
Price:- Our Youtube designing plans start from $10 which is deducted to $9.5 after providing an additional 5% discount.
Instagram Designing
Instagram is one of the best places to promote your product online. Now, people prefer to use Instagram, and thousands of new users daily join Instagram. We design your Instagram with our most talented digital team. Our team will take care of every aspect of promoting your product.
Price:- Our Instagram Designing plans are started from $10 which becomes $9.5 after an additional discount of 5%.
Facebook Designing
Our team successfully designs plenty of Facebook pages design and enhances their sales. We target specific groups related to your business to get the most filtered potential customers.
Price:- For Facebook designing, you have to pay $10 which becomes $9.5 after the deduction of a 5% additional discount.
3D Garment Design
For those people running a Garment business and want to digitize it, ArtKop provides high-quality 3D Garment designs. This helps in the promotion of your products over digital platforms.
Our responsible team can design any kind of fashion which you want to promote online.
Price:- For providing services of 3D Garment Design we charge $20 which becomes $18 after deduction of an additional 10% discount.
Birthday and events designing
If you want to give a surprise to your loved ones then you can design an event and Birthday card with us. We provide Birthdays card designing and event card designing services so that you can invite your guests to your events.
Price:- We charge $10 which comes to $9.5 after deducting an additional 5% discount.
Error Fixing in your wordpress website
If you're looking for a platform that can help you to provide the services related to error giving in WordPress then we're the best. Some of our team members are extremely talented in fixing WordPress website errors.
Price:- For fixing errors in WordPress website you just have to pay $40 which becomes $38 after the 5% discount.
Wordpress Website development
If you've decided to digitize your bruises then the creation of an effective and impressive wordpress website will be your priority. We provide highly creative website development designs so that your website looks attentive and impressive.
We use the most updated tools to design your website so that the customers get a pro experience while visiting a website.
Price:- We charge the most genuine cost for wordpress website development which starts from $50 and also get an additional 5% discount to our potential customers.
Poster Design and Photo Collage
Our team is specialists to create the most attractive and eye-catching Poster Designs and photo collages. top uses high creative minds with the most updated tools to ensure that the customers will get the best work from us.
Price:- Our Poster Designing and photo collage designing plans are starting from $9.
Book Covers
If you want to hire an organization that can provide you the best quality book cover design which enhances the premiums of your book we're best for you. We successfully created plenty of book covers and got a highly positive response from them.
Price:- To get the plans of Book cover you may visit our website. This should be charged at least $9.
We also create Realistics Draw Pencil portrait, and also create Black and White Vector art portrait Our Hand Draw watercolor and Pattern designing attains premium quality and extreme creativity.
Final Words
These are some major services that are required to improve the sales of the business. Well, ArtKop is much more than this. We offer a wide range of services to our customers so that the customer will have their solutions in one place. For discovering more information about us you can visit our official website with this link