Logo Design for your business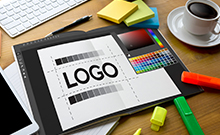 Logo Design
Branding is crucial for establishing and retaining a positive reputation for your business. People believe that making a memorable logo is expensive, but it's not the case with Artkop. A logo is not just about the colors, shapes, or wording; it is a universal signature that draws attention and defines your profession. It's an outward representation of who you are and what you stand for. Our passionate team of in-house designers has poured years of experience and creative air into our extensive logo design service. Every designer takes great pride in the one-of-a-kind designs they make, as well as in aiding new businesses in establishing their distinctive brand at a reasonable cost. We create logos for businesses, enterprises, freelancers, start-ups, and entrepreneurs that are both high quality and professional. That makes it easy for people to get stunning and unique on-brand logos all in one place.
You want to make sure the logo is perfect because it is the first thing new viewers see. The font is vital to ensure that the logo is legible when printed on business cards. Hence we always emphasize brand initials. We make sure to design the right font style that is legible and conveys your consumers' right message. The logo colors change the way people perceive and recognize your brand. Even more important is its shape. Like color, logo shape plays a big part in the psychology of the observer who views your logo design. We make sure that you get the accurate logo shapes that recognize the brand and your products or services and reflect it into the choice you make. Whether your business is online or storefront, we design a suitable layout that defines your business presence.
Today, Artkop is the leading provider of custom logos,monograms, wordmarks, logo symbols, mascots, emblem, typography, signature, vintage, and more. You receive logos in all types of source files in vector, PSD layered file. All file formats are available in Ai, Eps, Psd, Pdf, And High-quality Jpg and Png. With the original vector & source files in which logos are designed, you can access unlimited modifications like editing or resizing the logo to any desirable size without quality loss or pixelation. You also get a 3D Mockup used for showcasing work on websites, portfolios, and presentations to clients. The final orders carrying copyrights are directly transferred to the user/brand owner for lifetime ownership.
If you've newly started a business/profession or an existing one and want to stand apart, start browsing our logo catalog today.
How can you place an order?
Once you have selected a package that suits your needs, you can begin to place an order. You will be asked to provide as much information as possible to help us design your new logo. Alternatively, you can email us to discuss your needs before you start the order.